Conference Agenda
Over the past 70 years, the North Carolina Police Executives Association (NCPEA) has had the pleasure of hosting our annual summer training conference. This will be a milestone celebration for the association with an enhanced focus on learning and networking all while enjoying the sunshine and calm waters located in Wilmington, North Carolina! We hope to see you there! Conference Agenda, CLICK HERE!
Join us in Wilmington, NC, and you will have the opportunity to:
Network and build relationships with your peers
Learn best practices and innovative technology to help you fulfill the mission of law enforcement
Develop professional skills and obtain briefings on key current law enforcement issues
Conference training topics will include: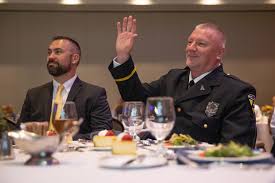 Sunday, July 14, 2024
Attendee Registration- Embassy Hotel Lobby
12:00 p.m. – 5:00 p.m.
Exhibitor Registration Open
12:00 p.m. – 5:00 p.m.
President's Reception
6:30 p.m. – 8:00 p.m.

Monday, July 15, 2024
Opening Ceremony
8:15 a.m. – 8:45 a.m.
Breakout Sessions (workshops)
* Lunch Provided
8:30 a.m. – 5:00 p.m.
Gathering of the Blue
6:30 p.m. – 8:30 p.m.

Tuesday, July 16, 2024
Breakout Sessions (workshops)
* Lunch Provided
 8:00 a.m. – 2:00 p.m.
Cocktail Hour & Awards Banquet
6:15 p.m. – 8:30 p.m.

Wednesday, July 17, 2024
Closeout Session
8:00 a.m. – 10:00 a.m.


* The both agenda is only a draft of the anticipated schedule for the conference, the agenda subject to changed.